Hong Kong Orphanage — 
Hong Kong Babies Home – Hong Kong Children's Home — Hong Kong Adoptees
Biography: Rev. Herbert Osborne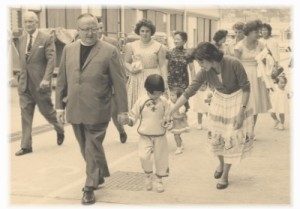 In Hong Kong, we knew him as Reverend H. Osborne. He was the Superintendent of St. Christopher's Home in Taipo, one of the largest orphanages in Hong Kong during the 1960's. Reverend Herbert Osborne was an extremely caring person who dedicated his entire life to the service of others.
Early Years
We know very little about Reverend Osborne's early life. He was born in 1907. He had two sisters. He grew up in Bebington, England. This small town lies just five miles south of Liverpool.
When Herbert Osborne was growing up, Bebington was known for the Church of St. Mark's, an Evangelist Church of the England Parish Church. Perhaps this is where Herbert Osborne found his love of missionary service.
Service in Asia
Herbert Osborne joined the Bible Churchmen's Missionary Society (BCMS) in 1927. We are guessing that it was BCMS who sent Herbert Osborne on his first mission. His first assignment was to Persia in the 1930's. Reverend Osborne found his true missionary passion when he was subsequently sent to China.
Reverend Herbert Osborne's missionary work in China was fraught with severe challenges and danger. Nevertheless, he was so dedicated to his missionary work in China that he did not flee when the Japanese invaded. He became a Japanese prisoner of war. Later, he was imprisoned by Chinese Communist forces.
Upon his release and expulsion by the Chinese Communist army, Reverend Osborne moved to India. There he continued his missionary work but left after a few years. Reverend Osborne then went to Hong Kong as the Superintendent of St. Christopher's Home.
St. Christopher's Home in Hong Kong
It was a natural fit for Reverend Herbert Osborne to become the Superintendent of St. Christopher's Home in the fall of 1960. His missionary work in China prepared him well to manage the large orphanage in Hong Kong.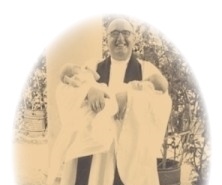 St. Christopher's Home was founded by Bishop R.O. Hall on the principle of Christ's love for all children. Reverend  Osborne exemplified this love in that he knew the name of each child even though the orphanage housed 300 or more children at one time.
Reverend Herbert Osborne was the tenth superintendent. His other responsibility was as the Supervisor of the Kei Shek Primary School. Caring for the Home's children meant providing them with a proper primary education, outside secondary schooling if possible, vocational training, extra-curricular and religious activities to build a balanced character.
Later Years
At the end of 1968, Reverend Herbert Osborne retired from St. Christopher's Home. He moved back to England to be closer to his sisters and relatives. Reverend Osborne continued to stay active as a Bebington Vicar. In 1976, he passed away in Cross Lane, Bebington. Services were held at the historic Anglican St. Andrew's Parish Church.
Those from St. Christopher's Home remember and dedicate this simple tribute to a wonderful, modest man who positively shaped many young lives.
Rev. Herbert Osborne – Life Events
1907 –  Born in 1907, England
1927 –  Joined Bible Churchmen's Missionary Society (BCMS)
1930's – Missionary to Persia
1938 – Serves 20 years as missionary in China, estimated year of arrival
1951 – Resigns from Bible Churchmen's Missionary Society
1958 – Missionary to India, estimated year of arrival
1960
 – Superintendent of St. Christopher's Home in Hong Kong
1968 – Retires as Superintendent of St. Christopher's Home in Hong Kong
1978 – Rev. Herbert Osborne passes away in Cross Lane, Bebington
Hong Kong Orphanage — 
Hong Kong Babies Home – Hong Kong Children's Home — Hong Kong Adoptees