Hong Kong Orphanage —
Hong Kong Babies Home – Hong Kong Children's Home — Hong Kong Adoptees
Early Hong Kong Orphanages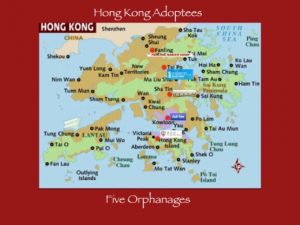 Foreign missionaries and concerned private citizens started the first orphanages in Hong Kong. During the peak occupancy years, 1950's through the 60's, these Hong Kong orphanages provided much needed services to the destitute children often found on the streets. The Hong Kong Government contributed funding in some cases but relied on the help of these charitable organizations.
They took in babies and children whose parents could not care for them due to poverty, death of one or both parents, special needs children, or babies born to young unwed mothers. Unfortunate circumstances like these occur in every country during periods of distress.
Profiled Hong Kong Orphanages
We profile just a few of the orphanages in this section:
Po Leung Kuk was one of the first established orphanages.
St Christopher's Home was one of the largest Hong Kong orphanages.
Fanling Babies Home and Shatin Babies Home were founded by the same missionary woman.
Chuk Yuen Reception Centre was a government orphanage.
Tap the orphanage photo to learn more.