Hong Kong Orphanage — 
Hong Kong Babies Home – Hong Kong Children's Home — Hong Kong Adoptees
Po Leung Kuk History
Founders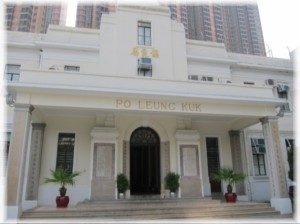 On November 8, 1878, four prominent Chinese businessmen petitioned the Governor of Hong Kong, Sir John Pope Hennessy, K.C.M.G.,to form a society to stop the kidnapping of women and children. Permission was granted in May 1880. Po Leung Kuk officially opened in 1882. It's become one of the most distinguished, charitable organizations in Hong Kong.
Mission
The meaning of its name reveals its charter: Po Leung means "to protect the innocent" and "Kuk" means society. Po Leung Kuk was governed by the Rules for the Society for the Protection of Women and Children.
Through the years, Po Leung Kuk has responded to the changing needs of the "innocent" beginning with kidnap victims, then refugees, the homeless, those with special needs, and more recently the elderly. Undoubtedly, its mission continues evolving to address current needs and services.
For more information, visit the Po Leung Kuk's website.
Women and Children at Po Leung Kuk
From its early days, Po Leung Kuk has been helping women and children in need. While some may have been rescued from kidnap or abusive situations, others found themselves without parents or relatives who could care for them.
Initially, girls were housed at the Tung Wah Hospital.  Po Leung Kuk built its first home in 1896. Its current location on Leighton Road opened in 1931.
Housing at Po Leung Kuk was meant to be temporary. For those in need of more permanent care, adoption or transfer to another orphanage or convent was arranged.
Today, Po Leung Kuk continues to offer residential child care in addition to operating elder care homes and many other services.
Orphanage Description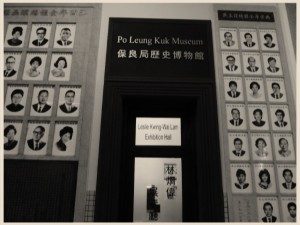 Po Leung Kuk is one of the oldest orphanages still in existence. Private tours can be arranged for former residents of the orphanage. The museum is open to the public. For more tour information, see Po Leung Kuk's tour information.
Some in our group were former residents. We share our personal experiences, photos and information with each other at reunions and chat sessions.
Sponsorship and Funding
Funding historically came from prominent local Chinese. Po Leung Kuk enjoys widespread support as a venerable charity. The Hong Kong Jockey Club is a major supporter. Many Hong Kong citizens, companies, groups and organizations donate and volunteer.
More Information
Contact us at info@fanlingbabies.com to meet former residents who've been adopted and for more information. Remember to tell us the orphanage(s), years you were there, and if adopted the date so we can put you in touch with the others.
Po Leung Kuk still exists today as one of the largest private charitable organizations in Hong Kong.  View their website.
Hong Kong Orphanage — 
Hong Kong Babies Home – Hong Kong Children's Home — Hong Kong Adoptees