Hong Kong Orphanage — 
Hong Kong Babies Home – Hong Kong Children's Home — Hong Kong Adoptees
Shatin Babies Home History
Founder and Key Staff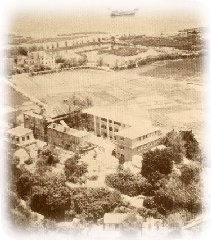 After Miss Mildred Dibden stepped down as the Superintendent of Fanling Babies Home, she then founded Shatin Babies Home in May 1952.
Shatin Babies Home was located in the New Territories, not far from Fanling in a town called Shatin (Sha Tin 沙田). It was renamed High Rock Christian Home and School in 1964.
Two key staff members were the English assistants, Valerie Conibear and Wendy Blackmur. Both were inspired by Miss Dibden's work and their desire to serve the Lord.
Orphanage Mission
Miss Dibden established Shatin Babies Home with the sole purpose of caring for foundling babies. She treated the children like family. She strongly believed that all children need love and personal attention in order to thrive. The children called Miss Dibden "Mama." Miss Dibden ran the home on a disciplined daily schedule which included prayers, play time and schooling.
Children at Shatin Babies Home
In its early years, the orphanage housed more than 100 babies and young children, most being girls but there were some boys. The children were loved and raised like one big family. Unlike Fanling Babies Home, the children were not "aged out" and could continue living at Shatin Babies Home as they grew up.
The children called Miss Dibden "Mama." Miss Dibden ran the Home on a disciplined daily schedule which included prayers, play time and schooling.
Orphanage Description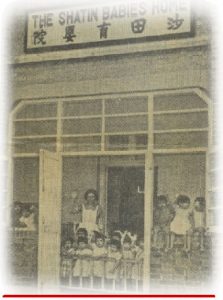 The old Sha Tin police station, with its iron prison bars, was converted into Shatin Babies Home. The other memorable feature was the hefty climb up a hill to get to the place.
The main building was a large, two story brick and wood building located about a mile's walk from the Shatin train station. Over time, additions to the building included a school and dormitories for the children.
Sponsorship and Funding
Miss Dibden maintained Shatin Babies Home through mostly local community contributions and donations from abroad. She was a tenacious, intrepid fund raiser. When a school building was needed, she found supporters from churches in Hong Kong, USA and England. Even the Hong Kong government helped her by charging a nominal rent on the property.
Orphanage Closed and Transfer of Children
Sometime in the 1950's, all abandoned or relinquished babies and children became the wards of the State. In addition, the government wanted these children placed in adoptive families. By 1963, in compliance with government policy, Miss Dibden facilitated the adoption of her younger children into Christian homes abroad.
In 1965, the assistants, Valerie Conibear and Wendy Blackmur, left to open their own Home of Loving Faithfulness in Fanling dedicated to the care of children with special needs.
Having placed many of her younger children in adoptive families, Miss Dibden moved back to England with her remaining charges in 1966. She continued her support of Hong Kong children with special needs through her fundraising in England.
More Information
Contact us for more information or to chat with adoptees from Shatin Babies Home at info@fanlingbabies.com  
Remember to tell us the orphanage(s) and year(s) you were there, if adopted the date, and we'll connect you to others like yourself.
Timeline
1952 – Miss Dibden starts Shatin Babies Home
1957 – School building opens for the children
1959 – 76 children live at Shatin Children's Home
1960 – Valerie Conibear joins the staff
1962 – Wendy Blackmur joins the staff
1963 – New Zealand families adopt 25 children
1963
– U.S.A. families adopt 24 children
1966 – Christian Missions in Many Lands takes over
1966 – Miss Dibden returns to live in England
1987 – Miss Dibden passes away in England
Former occupants find it worth the pilgrimage to see the buildings and visit the museum room at 102 Sha Tin Tau Village, Shatin, N.T.
Hong Kong Orphanage — 
Hong Kong Babies Home – Hong Kong Children's Home — Hong Kong Adoptees