Hong Kong Orphanage — 
Hong Kong Babies Home – Hong Kong Children's Home — Hong Kong Adoptees
Fanling Babies Home History
Founder and Key Staff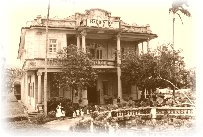 Fanling Babies Home was founded in 1936 by Miss Mildred Dibden, a missionary from England, as a Hong Kong children's home for the care of homeless babies. Miss Dibden moved 49 children under the age of three from Cheun Chau to Fanling Babies Home in the New Territories. Ruth Little, an Australian missionary, was her invaluable assistant.
Miss Lucy Clay, a registered nurse and graduate of a missionary training college, began as an Assistant in November 1948. She became the Superintendent when due to illness Miss Dibden returned to England and subsequently stepped down.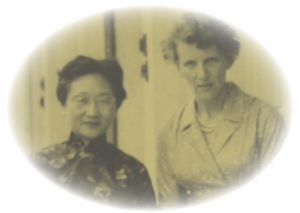 Miss Clay hired Ms. Tsen, who spoke fluent English, Mandarin and Cantonese, to manage the older children. The talented, dedicated Ms. Tsen quickly took on many other key roles including Assistant Superintendent whenever Miss Clay went abroad for fund raising and holiday.
Mission
Miss Dibden founded Fanling Babies Home for the care of destitute children under the age of two. When Miss Clay arrived at the orphanage, the mission of the orphanage was merely to provide a Christian upbringing for these little ones.
The Social Welfare Department was in its infancy, without even a Child Welfare Section. Few rules or guidelines existed. But this changed in the 1950's. Abandoned children became the wards of the State. Government policies for the care of these children were established such as, an official search for relatives and adoption if none could be found.
During Miss Clay's supervision, she implemented the Social Welfare's new policy to find families for the children at Fanling Babies Home. To the Protestant trained nurse, this meant adoption into a proper Christian family. The adopted children found families in Hong Kong, Canada, England, New Zealand, United States and other countries.
Children at Fanling Babies Home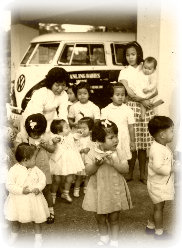 The total number of children that passed through Fanling Babies Home is not known. At peak times, Fanling Babies Home accommodated over 100 children at a time.
Children stayed at Fanling Babies Home until they were adopted into Christian families or until they were transferred to Children's Garden at 7 to 9 years of age.
Children's Garden (名為「烏溪沙兒童新村), in Ma On Shan, was established and operated by the Christian Children's Fund. The children lived in small family groups under the care of a cottage mother. After turning 18 years old, suitable work was found for each child. Some returned to Fanling Babies Home to work as amahs caring for the babies and young children.
Orphanage Description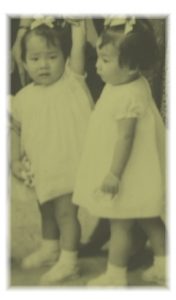 Mildred Dibden rented the estate, on Main Street in Fanling, from an elderly Chinese landlord. He built the estate to accommodate his family and relatives.  In addition to the main two-story house, there were several smaller one-story buildings on the compound.
The two-story main house easily accommodated a nursery school, dispensary, and bedrooms. Babies were on one floor while toddlers were housed on the other floor.  Older children and staff were housed in the smaller one-story buildings on the estate.
Sponsorship and Funding
Fanling Babies Home was sponsored first by the Hong Kong Evangelical Fraternity and friends in Hong Kong, England, and Canada. By 1955, the Home Council in England, Home Council in Canada, Hong Kong government grants, and Christian Children's Fund, Inc. supplied the majority of the funding.
The estate was bought in 1946 by the Christian Children's Fund, formerly known as China Childrens' Fund. In 1951, Christian Children's Fund took over full sponsorship and the operation of Fanling Babies Home.
Orphanage Closed and Transfer of Children
By the early 1960's, the main building at Fanling Babies Home was in sad disrepair. In Tai Po, construction on a new home began and the corner stone was laid May 23, 1965.
Fanling Babies Home closed and the remaining staff and children moved to Pine Hill Babies Home in 1966. Eventually, the new Home became a school dedicated to the care of children with special needs, managed by Hong Chi Association.
More Information
Contact us for more information or to chat with adoptees from Fanling Babies Home at info@fanlingbabies.com who can tell you much more.
Remember to tell us the orphanage(s), year(s) you were there, if adopted the date, so we can connect you with others from the same orphanage.
Former occupants find it worth the pilgrimage to see where the orphanage used to stand.
Timeline
1936 – Fanling Babies Home founded
1940 – 61 children and 16 staff members
1940 – China Children's Fund rents Fanling estate
1941 – Japanese troops invade the home
1948 – Miss Clay joined Fanling Babies Home
1951
– Christian Children's Fund takes over
1955 – Ms. Tsen joined as Assistant
1962 – Planning for new Babies Home begins
1966 – Moved to Pine Hill Babies Home in Taipo
1987 – Miss Dibden passes away in England
1992 – Original Fanling buildings torn down
2004
 – Miss Clay passes away in England
2008
 – Ms. Tsen passes away in Hong Kong
Hong Kong Orphanage — 
Hong Kong Babies Home – Hong Kong Children's Home — Hong Kong Adoptees